The last several months have shown that now, more than ever, our patients health must remain an imperative focus of our practice. When we were instructed to close our offices on March 20th, 2020 we were concerned for all of our patients as your oral health is far more important than you might realize. If left unchecked, underlying dental issues can not only cause teeth, gum, and overall oral health issues; but can also lead to a visit to the Emergency Room. With your oral health serving as a major contributor to your overall health; we have invested in practice upgrades and procedural adjustments to ensure your safety so that we can reopen and get back to keeping you and your oral health on track with the help of our industry-leading professionals.
When you return to our office for your next visit, you will notice that we have systematically adjusted our operations in response to the COVID-19 pandemic. Although we have always complied with industry best-practices to prevent things like HIV, TB, and HEP-C, we have taken things a step further in order for you to feel at ease when visiting the office during the pandemic, so that you are comfortable with maintaining your appointments, and subsequently, your oral health.
As healthcare providers, we've been fortunate enough to have received priority access to the COVID-19 immunizations. Our team is dedicated to putting your health first. While the vaccination provides us with hope and a layer of protection, it does not provide defense against those who have not yet received the vaccine. For this reason, we will continue to adhere to the strictest safety protocols in order to continue to provide you the highest level of care.
The changes that were described above that we have made include:
UV light sanitizers installation
Hospital grade ventilation systems installation IN ALL TREATMENT AREAS
New vacuum system upgrades to remove 99.9% of aerosols from procedures
The addition of UV and HEPA air filtration systems
Entire office disinfected, painted, and new flooring placed to allow for easier disinfection between patients
ALL staff to receive daily temperature readings
ALL staff in scrubs; changing before leaving the office
Disinfection of waiting and common areas every hour
Limiting of hours to reduce the amount of people in the office/building daily
Limiting appointments to scheduled patients ONLY.

Drivers, Guardians, Significant Others, etc. please wait in the parking lot for appointment to be complete.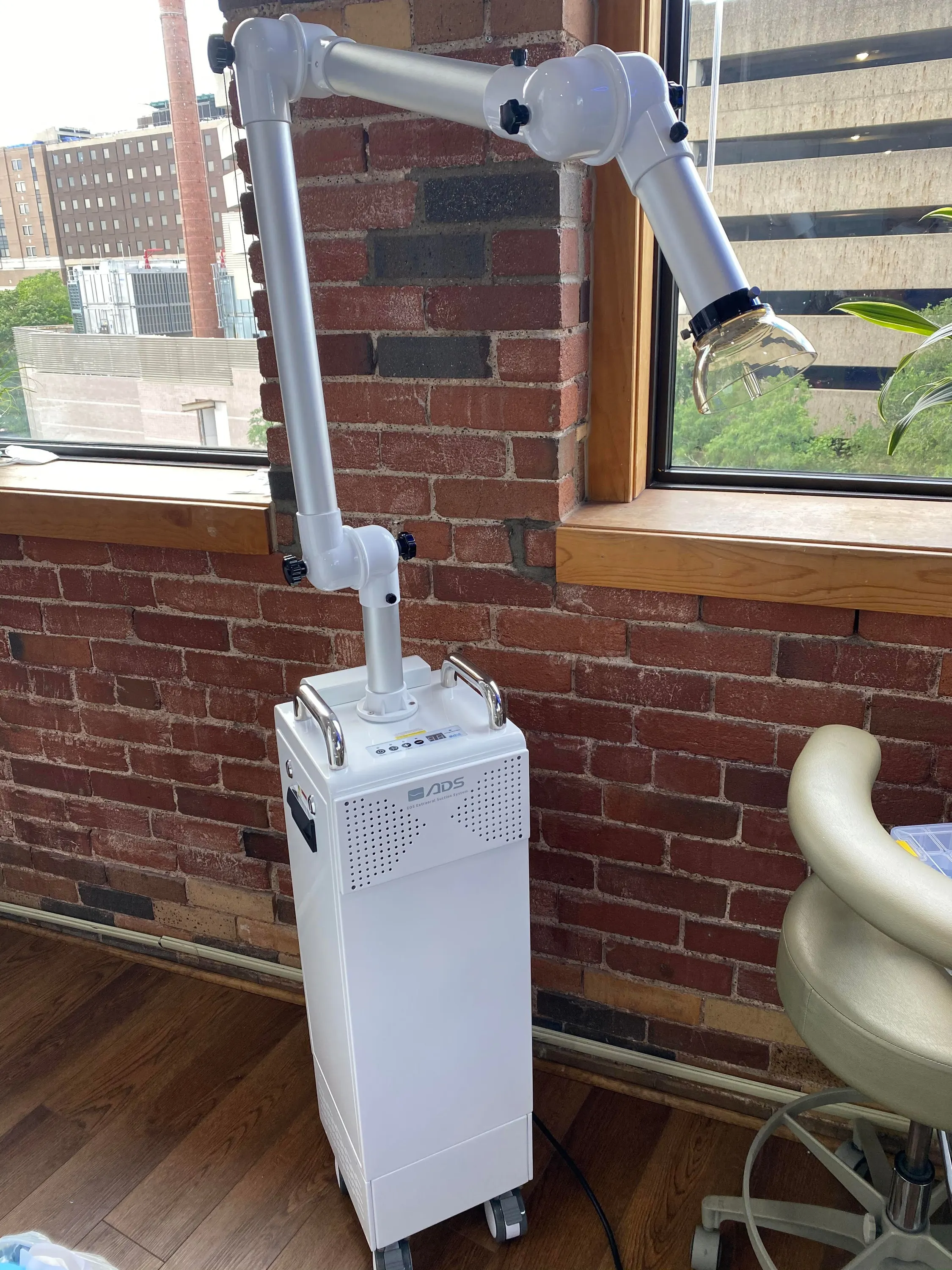 Seen above, our new Extraoral Aerosol Extractor combines the best technology in the industry. The 4 layer HEPA filtration system and a high powered UVC germicidal light to kill all viruses, bacteria and pathogens created during aerosol generating dental procedures.
With these changes in place, we are open June 8th, 2020. Our hours of operation have been scaled to limit the amount of patients seen per day.
Until further notice, they are as follows:
Monday: 8 AM to 4 PM
Tuesday: 8 AM to 4 PM
Wednesday: 8 AM to 4 PM
Thursday: 7 AM to 3 PM
Friday: 8 AM to 2 PM
We look forward to seeing you all as soon as possible, and will send out information regarding our full return to dentistry here at The Dentists at Shadyside Place. We will prioritize outreach and scheduling for individuals that had appointments cancelled due to our closure, but we do apologize in advance as we anticipate an influx of messages from patients previously scheduled and unscheduled. Please be patient and rest assured we will get you rescheduled as soon as we can—but please do not hesitate to reach out with any specific questions or concerns you may have.
**** PLEASE NOTE A MASK IS REQUIRED TO ENTER THE BUILDING AND ITS ELEVATORS, ONCE IN OUR SUITE YOU MAY KEEP YOUR MASK ON BUT IT IS SAFE TO BE WITH OUT ONE DUE TO THE VENTILATION UPGRADES**